AND THE WINNER ISSSSSSS
Congrats Sean and Vanessa Barker!!! Contact Deb on her FB or etsy to claim your prize!!!
http://www.etsy.com/shop/whimsicaloriginalsdb
Ummmmmmmmmm I LOVE to bake...seriously, there is nothing I love more but there is one thing I just CAN'T do for the life of me and that is decorate sugar cookies!! I don't know what it is about them, I just cannot get the cookie right then I can't get the royal icing consistency right! ARGHH! But that is what this amazing company is for!!
We're kicking off our Doughnut week with the lovely Deb from
Whimsical Originals
(Yummy Delicious Cookies)...Now, before you visit her etsy site, you must know...BE PREPARED FOR ADORABLE-NESS. I seriously want to buy these all and eat them up but I can't...and I won't. BUT YOU WILL!!! Deb is giving away one dozen beautiful doughnut cookies to celebrate Dough a Deer opening!!! YAY! Seriously, you guys are so lucky. Just LOOK at her adorable monster cookies!!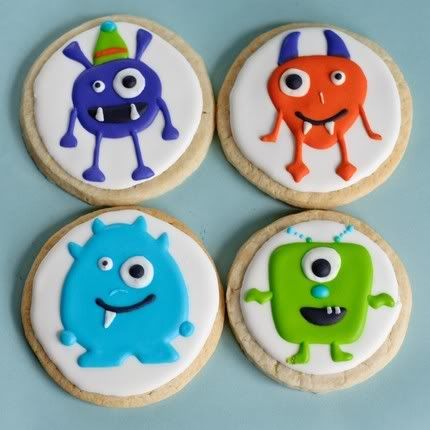 And OH EM GEE, her Thomas the Tank cookies make me want to pop out a son and have a birthday for him...pronto. Seriously SWEET in so many ways!
So in typical giveaway fashion I wanted everyone who reads this to learn about the amazing people I have participating in the giveaway!
Deb, how did you start your business and when?
-I technically started baking my cookies almost 10 years ago as wedding favors for my own wedding ;-) From there, I did my kids' parties, and a few friends parties. I really started to market my company this past spring once I knew that my little kids were in school full time. So 10 years experience, but only a 6 month old company.
What is your favourite product or design to make for your customers?
- My favorite design to make for customers has to be custom orders... I loved the "Thomas the Train" cookies, or the French Poodle cookies. It's fun to do something different and new.
What would you do if someone gave you 1 million dollars to invest in your business?
- With one million dollars, I would have TWO ovens; industrial-sized mixer; and a full-time employee to help with packaging and shipping, and one AWESOME website. I would still want to decorate the cookies myself. However, one million dollars would REALLY help with marketing!!!!
How are you gearing up for the holiday season?
- For the holidays, I'm hoping to make some unique designs this year. I'd love to work with other designers to coordinate my line - as I did with Halloween with InkSpot Workshops.
And last but not least...so like, how much do you LOVE doughnuts?
- My love for "doh-dohs" started a VERY long time ago. I grew up with a Dunkin Donuts across the street. So early mornings walking to school, I would open the back door to the smell of fresh donuts. OHMYGOSH!!! I can still smell them. I limit doughnuts to special occasions as an adult (slowing metabolism), but the smell still takes me back to
Boston.
So what do YOU have to do to win!? You have 24 hours...THAT'S RIGHT ONLY 24 HOURS to get your booty to the following (each thing you do is a separate entry and a separate comment! (don't cheat yourself!) I will use that random number thingie to pick the winner! EASY!!! Have fun and good luck!!!
1 entry
= Become a fan of the amazing cookies on
FB
1 entry
= Visit the
etsy shop
and come back here and tell us one thing (or two) that you would like to see in her cookie designs!! MmmM
1 entry
= making Dough a Deer your
FB fan
if you aren't already!
Remember, each entry is a separate comment and don't forget to tell your friends!!! Maybe if they win they will share ;)
Love and Dough