A HUGEEEEEEEEEEEEE thank you to everyone who entered this giveaway! The winner of the 6 dozen doughnuts (shipped this month at my discretion) ISSSSSSSSSSSSS (contact me at info@doughadeer.com to arrange shipping! =])
BUTTTTTTTTTTT SINCE WE WERE SOOOOOO CLOSE TO 100 ENTRIES I AM GOING TO GIVE YOU ALL A LITTLE PRIZE AND INCENTIVE TO TRY US OUT IF YOU HAVEN'T YET!!!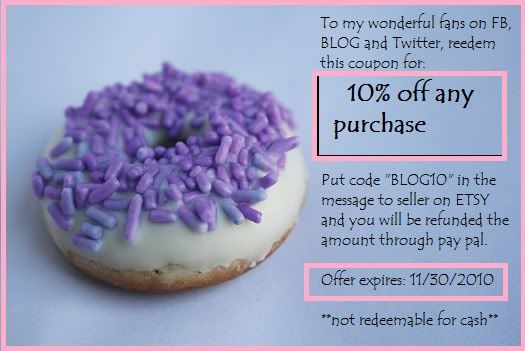 Use by the end of this month!! :) Pass along to friends and don't forget to use the code!!
Thank you thank you to everyone that participated and we truly appreciate your friendship and love!!! :)
Alright...so finally, at the end of Doughnut week, Dough a Deer has their giveaway!!!
First of all, I would like to THANK THANK THANK all those who participated in my Doughnut week giveaway and I hope you got some new fans and orders! It was such a pleasure getting to know all of you (at least 5 questions worth) and I had a great time! Also congrats to all the winners!! I hope you tell your friends about the lovely vendors you won goodies from!!!
Now, most of you are a fan of Dough a Deer because you like doughnuts, right? Or maybe you thought they were cute? Or maybe you were thinking about ordering or have already ordered! Whatever the reason you are here...you all ROCK. Seriously, Dough a Deer is NOTHING without their fans and you are all the BEST FANS ANYONE COULD EVER HAVE!
And what do I do for people I love? Give stuff away, obviously. So what am I giving away? Get ready for it...GET READY FOR IT!!!!!
6 dozen doughnuts!!!!!!!!!!
OH SNAP! My giveaway is a
$60 value
!!!! Woah woah woah!
So what do you need doughnuts for? Thanksgiving get together?! Birthday gift?! I will be shipping your prize during the month of November!
So of course, in keeping with this weeks theme...I am going to answer the questions I asked too!
1
. How did you start your business and when?
Well we got married in June and I had been out of a job at that point for over a year. I searched for another month and realized it was time to take matters into my own hands. At first I was planning on re-opening my cupcake business then decided it was time for a change. One night I was craving Krispie Kreme and I went there but they were CLOSED (i thought they were open lateee!!!). So I decided to search online for how to make my own. BOOM! Dough a Deer was born! And it's so much more successful than I thought it would ever be this soon! <3 style="font-weight: bold;">.What is your favourite product or design to make for your customers?
I loooveee custom orders! I basically love any order to be honest...each one is great and most of them have a story and a cool destination and purpose and it's so fun knowing that the little guys are flying all over the U.S making people happy!!
3.
What would you do if someone gave you a million dollars to invest in your business?
What a dream. I would open up a bakery most likely somewhere in San Diego...or I could just stay here I suppose! lol. I would hire some helpers (including my mom) and I would get a machine made up that pumps out ridiculous amounts of lil dough babies! Also maybe a dipping machine =]. Plus I would stock up big time on supplies!
4. How are you gearing up for the holiday season?
I am developing some new flavors and working on the holiday gift packaging! I am anticipating a very busy season so I am trying to mentally prepare myself too! =]
5. So like, how much do you love doughnuts?
They are just sooooooo adorable...how can you NOT love them!? There are so many flavor choices!!!
So how do you lovely people win!? Tons of ways to win!!!
Entry#1 - Follow my blog
Entry#2- Post on your FB page about this giveaway (add the link to your page/post)
Entry#3- Post on your twitter about this giveaway (add link to page/tweet)
Entry#4- Go to my
etsy
and tell me what flavor/color combo you would like to see!
Entry#5- Tell me what you would do with the 6 dozen doughnuts if you won!
Entry#6- If you aren't already, become our
FB
fan!
Don't forget to leave a separate comment for each entry and tell all your friends!!! =]
Giveaway ends October 31st...winner announced on November 1st!!!