Well the winner of this one was a 50/50 chance!
So I am seriously a sucker for girly things and Pink of course (can you tell?) This next seller comes to us off etsy.com THE BEST SITE EVERRRR and she is all the way from Isreal!! How awesome is that!?
Entering this contest will win you 2 absolutely adorable button rings with, you guessed it, adorable and HAPPY doughnuts! Check out their cuteness!!!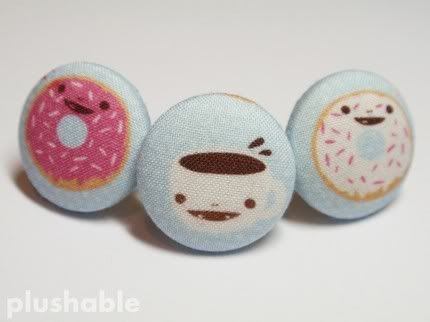 1. How did you start your business and when?
My love to art and crafts was always one of the most strong and sure things in my life. From childhood I enjoy drawing, sculpturing, sewing, knitting and jewelry making in my free time.
Few past years I was so busy and had no muse, but all the sudden half a year ago it hit me that all I really want to do is to create and try new things.
Then the muse came from all over and I found myself enjoying again from this fabulous world of art and creations. I started to get good feedback from friends and family, and many got interested in my work – from there it wasn't long until I understood I can share my work with others and enjoy it.
I've opened my shop on ETSY and discovered a wonderful world to share my crafts in it. Not long ago I made a big decision to quit my day job and to focus on my crafts and shop while studding for a graphic designer.
2. What is your favorite product or design to make for customers?
I love making custom orders for my buyers – I enjoy converting an idea to their desired item and enjoy the cooperation.
My favorite product is the Magical Unicorn necklace sculptured from clay – I'm really happy it came out just like I imagined and I just love it so much that sometimes it's hard to give it away to the customer : )
3. What would you do if someone gave you 1 million dollars to invest in your business?
If I had a million dollars to invest I would defiantly buy a workshop and separate it to two – one half would be my shop and the other would be a craft workshop where I would teach a group of young girls crafts and art.
4. How are you gearing up for the holiday season?
Now that I have much more free time, I intend to invest it all in making lots of new holiday themed items such as plushies and accessories especially for this season.
As for holiday's sales – it's already on at my shop and there's more to come!
5. So like...how much do you love doughnuts?
Doughnuts make me happy – all the colors, different tastes, frosting and sparkles – for me it's a piece of art! And…you can taste it too! :D
Doughnuts are a great inspiration to me, as you can see there are few items at my shop dedicated to them – these are defiantly few of my favorites.
Entering is of course, EASY PEASY.
Go to her
etsy
and tell us what adorable girly stuff you would like to see OR your favourite item of hers!!!
Simple!! Ends tomorrow at 12pm PST!!! Good luck!!