AND THE WINNER OF KITTY CROSSBONES' DOUGHNUT SET ISSSSS:




CONGRATS!!! CONTACT AMYLYNN AT HER STORE OR FACEBOOK TO REEDEEM YOUR PRIZE!!!


AND THE WINNER OF THE GLITTERY DOUGHNUT STICKERS FROM THE PURPLE PUG IS...





AND THANKS FOR THE COMPLIMENT, NYC...YOUR USER NAME IS MAKING ME WANT CANNOLIS NOW!!!





Soooooooooo I am starting this one a LITTTTLE early and ending it a LITTLE late because there are 2 different sellers and 2 different prizes!!! SQUEEEEEEEEE!!!
This is awesome, seriously...This week is filled with ultimate excitement from me.
FIRST OFF:
So there is this awesome chicky named AmyLynn. She has her own business called Kitty Cross Bones. I AM SOOOOO SURE you have heard of it. This is like the ultimate gold mine when you need to promote yourself or if you want a personalized gift. Really...she puts anything you want on buttons, mirrors, bottle openers, scratch off tickets and more. I have ordered from her and I will continue to order from her...I'm not joking. Are you ready for this? This is like the perfect way to keep
Dough a Deer
with you at ALL TIMES.
TAH DAH!!! One of you will win a bottle opener and a hand mirror with photos of my doughnuts on them!!! How talented is she? I wish I was good at graphics but for now I will just buy lots of stuff from her. Check them out!!!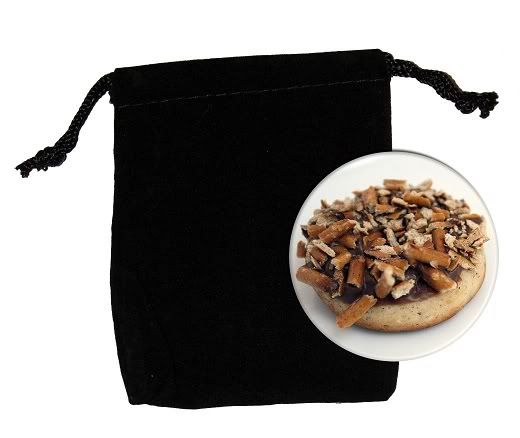 AND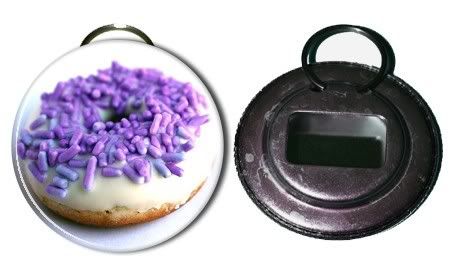 1.

How did you start your business and when?
I started my business in the Summer of 2004 with my fiance. We were looking for a way to make some extra money and we had no idea it would start what is now known as Kittycrossbones! Our original name was Button Freaks, and we sold on eBay (before I knew about Etsy.) My fiance stopped helping me as he is a DJ now and has no free time! So it's just me and the buttons, (and other fun goodies!)
2.

What is your favourite product or design to make for customers?
Awe, do I really have to choose a favorite? Ok. I think it would be the 1" buttons. They are so small and cute, and super affordable! I love to see all the different ways everyone uses our products for.
3.

What would you do if someone gave you 1 million dollars to invest in your business?
o0o a million dollars!! I think I would buy a few automatic button machines, so that I can get everyone's orders done faster.. and I would probably also buy a square button machine.
4.

How are you gearing up for the holiday season?
Well, to be honest the promo business comes in spurts even during the holiday season. So I can't really prepare, but what I love doing around each season is throwing in a few holiday themed promos - like scratch off cards and stickers!
5.

So like...how much do you love doughnuts?
OMG, I LOVE DOUGHNUTS! And I love your name, "DoughaDeer" it's just so adorable!
__________________________________________________________________
GIVEAWAY #2!!!!!
Okay...so this chicka and I go way way back...like 3 weeks or so. But whatever, that's besides the point! This lady LOVES glitter and everyone knows that glitter sprinkles on fake doughnuts is awesome. So where can I get me some glitter that will work on the real doughnuts!?
The Purple Pug!
She is giving away a sheet of AMAZING glittery doughnut stickers! Do you know where you can put these? That's right...everywhere. I seriously wish I could rig this giveaway...ALL WEEK and win all of these doughnut prizes myself. I am in love.
DO YOU SEE THESE?!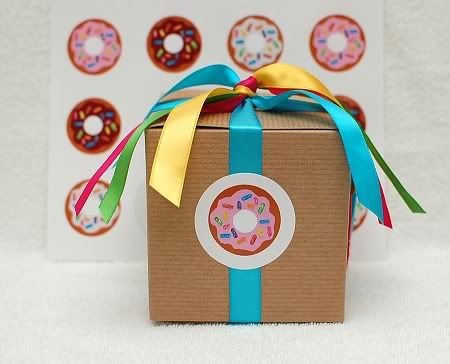 1. How did you start your business and when?
I started my business in 2006.I always loved planning and styling parties.
When my older son was turning one, I could not find anything I thought was unique, charming or special enough for his
birthday party. I got creative and crafty and I handmade most of his partyware. It was such an amazing feeling to be able
to create handcrafted items for someone I adored so much. I was handmade partyware smitten and my business evolved
from there.



 2. What is your favourite product or design to make for customers? 


All of them! LOL! I love to create handmade anything with sparkle. I am simply honored when someone chooses me to
design their partyware. Love my work, adore my clients.

3. 

What would you do if someone gave you 1 million dollars to invest in your business?


Hmmm..First and foremost Iwould rent out a fabulous studio space and organize my business they way I always dream about
...I am outgrowing my space now and that would be amazing for me...I would also invest in tools and machinery that would make
production as easy as possible. I would also spend a chunk of that cake on marketing, promotion and advertising. And a
metallic lavender Range Rover would be way cool...to promote The Purple Pug, of course..LOL!



4. How are you gearing up for the holiday 

season?


The holiday season is usually my slowest work wise. I do not offer any official Holiday items or lines. I always
s do custom designs and by request for Holiday partyware, but I keep it on the DL because I actually like the little breathing
room at the end of the year. The holidays are crazy enough with my family:)

5.

 So like...how much do you love doughnuts?


Ummmm....Totally & seriously adore donuts. My absolute fave are black
raspberry jelly filled donuts with cinnamon sugar coating. I have been using donuts at my parties for the past few years
and am part of the donut mafia:) My little boys are madly in love with strawberry frosteds with rainbow sprinkles-scientific
proof that insane donut love is genetic.  Dunkin' Donuts + Krispy Kreme (I call them "Kristy Kreme") + Tim Horton +
Dough A Deer=TRUE LOVE FOUND



So I seriously totally JUST DIED. But then I came back so I could finish this blog entry because, DUH




you guys need to know how to win!



So here is what you need to do LEAVE A COMMENT FOR EACH ENTRY!!!!

#1- Become a fan of Kitty Crossbones on FB

#2- Become a fan of The Purple Pug on FB

#3- If you aren't already, become our fan

#4- Extra entries if you want to let us know what kind of promotional
items you want to see Kitty Crossbones do or if you want to let The
Purple Pug know what you'd like to see all glittery in her shop!!

SOOOOOOOO MANY WAYS TO WIN!!! GOOD LUCK!

When the giveaway ends we I will just do 2 random numbers and the
first random number will win the mirror and bottle opener and the
second number will win the stickers! YAYAYAYAY!!!